One Price. Many Services.
Choose the services that grow your business.
In our One Price, Many Services Plan, you get to choose the services that you think will work best for your business. Service Ox does not offer any lengthy contracts but only straight forward plans.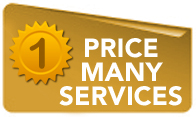 At Service Ox, you will get that what you choose, with no hidden costs. We aim to provide you flexibility in such a way that no other answering service company can come close to. While partnering with Service Ox, you can get to keep the control in your hands and employ our business associates to guide your customers in the way that you want. In fact, the services on which they will be working, the time that they be devoting on each call and hence on monthly basis, and the script that they be following, entirely depends on the choices that you make while setting up your account with Service Ox.
Simple and affordable Service
Another greatest advantage of Service Ox comes in terms of affordability of cost and simplicity of our procedures. Here, we do not believe in binding our clients with lengthy contracts but believe that if we perform well and as per your expectations, you will prefer partnering with us, for long. The live answering, web chat and email response services provided by Service Ox show our commitment to cover all the facets of communication and guiding the customer in making a purchase. The aim, towards which our work team members work, is enhancing the bottom line for your organisation.
Grow when you are ready
We understand that with the changing time and increasing profitability of the business, the needs of an organisation changes. That is why we, at Service Ox, give you the flexibility to keep on adding the services from time to time. Be it an appointment management service, virtual receptionist service, lead management or an inbound direct response, we give you the flexibility of exercising your choice and mould each service as per your business needs.
Use your minutes for:
Live Phone Answering
Appointment Taking
Inbound Direct Response
Lead Capture
Urgent Call Handling
Message Taking
After Hours Answering
Generate and Qualify Leads
Virtual Receptionist Services
SEE PLANS & PRICING
Call 0.000.000.0000

What clients are saying:
"You've proved that we've contracted with the very best. Thank you! We'll all sleep a little easier at night!"
Rhobye Wyatt, Riverside Apartments
"Your folks on the phone make our organization seem so professional and so 'on-the-ball'!"
Sharon Barnes, NOBCChE